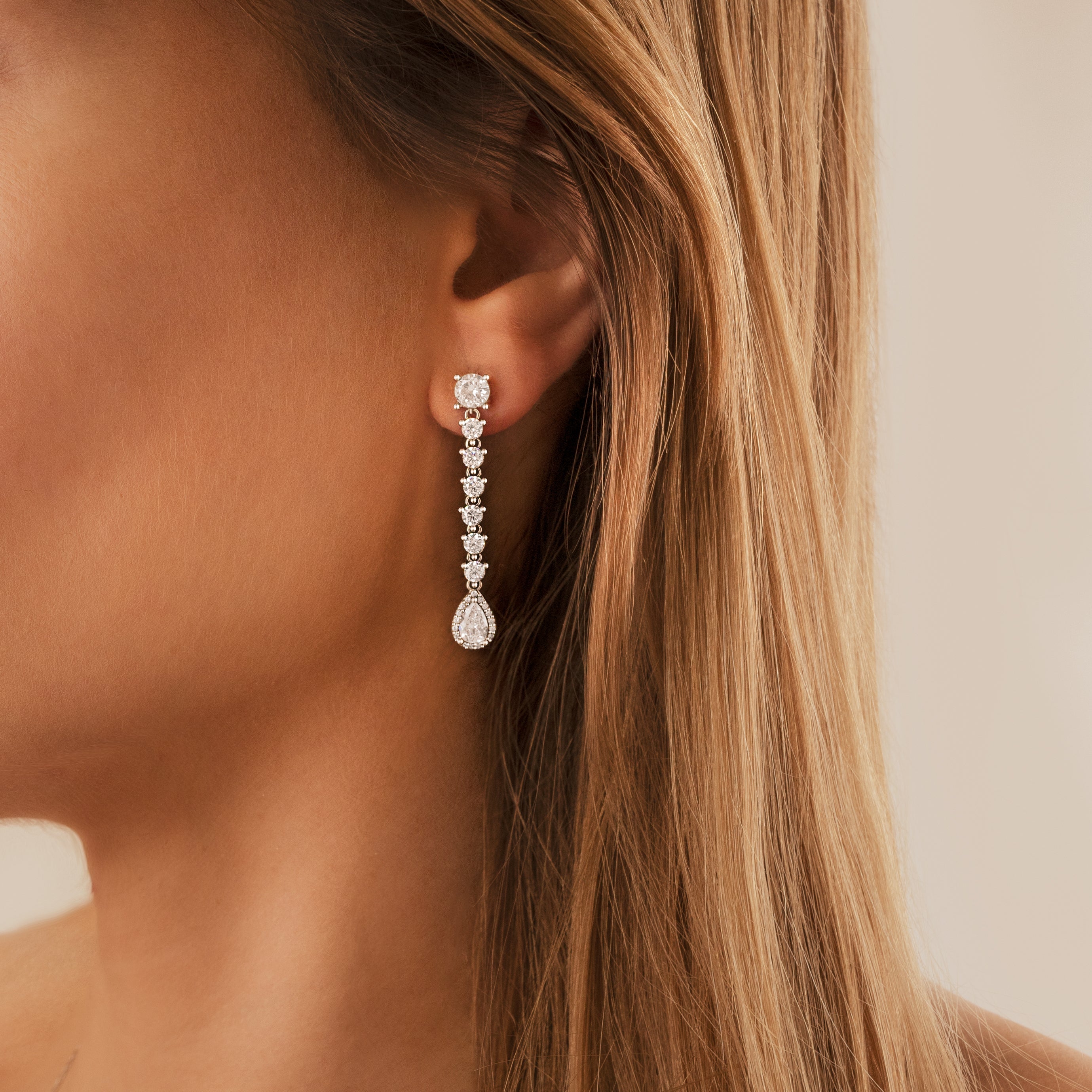 Best long earrings for 2023
It's almost time for next year and to welcome it as you should, nothing better than long earrings for the parties. In general, earrings are those jewels that should never be missing in your jewelry box, no matter the occasion or your style, since there is a huge variety of earrings you can choose, and any design will make you shine.

Of course, long earrings for new year are always a safe bet if you want to look elegant and give a distinctive touch to your outfits. In addition, long and middle earrings are perfect for any almost any kind of face type, so they will help you to highlight your best qualities. Don't forget that the selection of your earrings will always depend on your style and will reflect your personality. And, if you want to know more about what earrings best suit your face type, visit our blog.

And in Sophia Jewels we would like to show you those long earrings that will be trend and with which you will catch all eyes in this new year 2023.

Long earrings for 2023
Every year or every season is marked by jewels and fashion clothing pieces that will be trend in that time and that most people will be wearing. So, let's see the long earrings for events you could wear this year, always staying true to your style and preferences.

• Hoop dangle earrings
Hoop earrings are the most traditional and timeless designs that exist in the world of jewelry. As its name says, they are earrings with circular shape, and you can find them in different dimensions and colors. Moreover, you can combine them with any look due to its versatility. And you can suit the hoop earrings to your face type, so it won't be difficult to choose the best for your personal style. In our web, you can find the "Ringed" or the "String of Hoops" earrings, that are characterized by having some rings of different dimensions, and that you can wear with a lot of glamour in the best parties and events.
• Chandelier earrings
Another indispensable jewel in your jewelry box is the chandelier earring. This type of earrings receives the name from the French word chandelier, and it refers to the same design of a candlestick, since it has different stones and diamonds that dangle from a button, and all diamonds rows reflect shine like candles in a chandelier.

You can find several designs with precious stones or brilliants in different cuts, that will give elegance and distinction to your looks. These earrings will be perfect for the next year.
• Dangle earrings
Dangle earrings are long earrings that hang under the earlobe and they move and swing when you walk. Designs of long earrings for parties can be extravagant or simple with diamonds or natural stones, that create beautiful designs. For example, you can find long earrings with a button placed on the earlobe that is closed with ear scrolls, and from which dangle some long and thin strips, like "Late Night" or "Temptation". Or you can enjoy earrings with diamonds or stones of different dimensions to highlight even more your outfit and hairstyle.
• Teardrop earrings
With a mix of the brilliant and marquise cut, it can be made the pear shape that can also look like a teardrop. This type of cut gives your jewels a vintage and timeless touch. And the teardrop stones in long earrings for next year are perfect to soften the angles of square and rectangular faces. Furthermore, wearing teardrop earrings is not a recent trend since they always come back to add a look of romance and femininity to your outfits. And, of course, you can find them in different dimensions to adjust this design to your preferences, like earrings with a long and narrow teardrop like the "Sparkling Goddess" earrings; or long earrings with a line of diamonds followed by a little teardrop at the bottom, like the "Dazzled" earrings.

• Rivière earrings
Rivière earrings, and rivière jewels in general, characterize by creating a line of diamonds placed side by side. The sparkle that generates these diamonds looks like the lights that are reflected on the river in the French Riviera, and from that place they receive the name. Rivière earrings come in different designs and sizes that will adjust easily to your preferences and outfits. You can find in our web a simple design with just one line of diamonds like "Splendid Delirium"; or you can also see more extravagant designs like "Extravagance" earrings, that will make you be the queen of the party. This design of earrings is ideal for weddings, events and evenings parties.
And if you want to expand your knowledge about Rivière jewels, you can visit our blog.

From now, you are ready to receive this 2023 with sparkle, elegance and too much style thanks to this list of long earrings for events that will be in trend next year. So, don't forget to visit the new collection of long earrings that bring you Sophia Jewels.