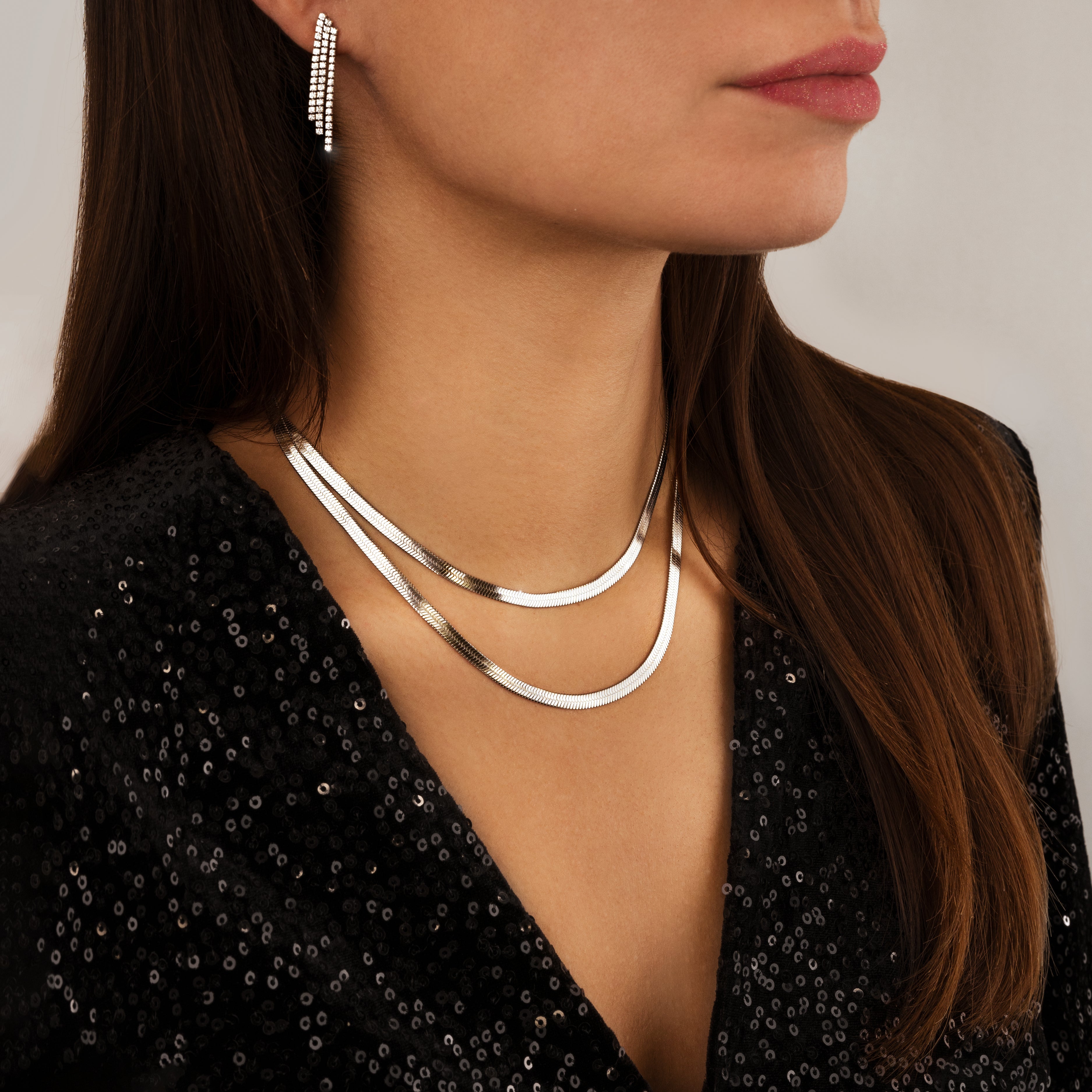 Create surprising looks for Christmas
Christmas and New Year are almost here, so we have a whole month full of reunions, parties, and dinners with family and friends. But, as a special time, outfits are key to look elegant, even in a casual meeting with your friends. That's why the best looks you need to choose are those simple and sophisticated, with sequins and neutrals colors, like black, red or beige.

However, not everything concentrates on the clothes you are going to wear, but you should also think about the perfect accessories and jewels to help you combine them to make you stand out. In this way, here in Sophia Jewels want to share with you the best jewelry for Christmas parties that will make you surprise during this time.


Best jewels for Christmas events
Jewels are perfect for every occasion because they always give a touch of elegance to your outfits, besides reflecting your personality and character. And, as within the world of jewelry there are countless designs of necklaces, earrings, rings, and bracelets, for this time you can choose those simple but elegant jewels that best suit your outfit and your tastes.

Now, let's see the best jewels for Christmas that will make you look radiant and beautiful.

• Long necklaces
One of the perfect accessories for any look are necklaces. And for this Christmas period, long necklaces will add them more elegance and simplicity. Just remember that the key to create surprising looks is to keep the balance and don't overcharge the complements you wear. In our web, you can find necklaces like "Divine", "Terza", or "Finesse", that will be ideal to shine at Christmas.

• Silver bracelets
If you want to go with the trends and add a different jewel to the necklaces, but that equally complement in a perfect way your Christmas outfit, silver bracelets are ideal for you. The delicacy of simple bracelets is what makes them fit all kind of style. You can wear them for a simple day look, or you can combine them with attractive clothing like dresses or blouses with sequins. It's for this that silver bracelets are so versatile and timeless that you can wear them with different looks.

• Star necklaces
To look radiant and add shine to your outfits, star necklaces are perfect to create incredible looks for Christmas. These jewels are characterized by their minimalism and delicacy, what brings elegance to each cloth. And due to its simplicity, you can wear just one necklace or even you can combine two different star necklaces that perfectly complement, like "Stars" and "Starred" necklaces. Both can be used separately, but if you link them you can create a dream look.
• Minimalist charms
Other jewels that have become as well in trend and that are ideal for this Christmas time are necklaces with minimalist charms. Little zircons of different cuts, and simple and delicate necklaces complement your looks perfectly, either if they are elegant or simple. These charms are classic and timeless jewelry that you can find them with brilliants, precious stones, medals, hearts, etc. And, for Christmas and New Year, minimalist charms will make you look fresh, comfortable, and elegant. In our web, you can find some beautiful charms, like "Square Zirconia" or "Zirconia Circle".


• Necklace and bracelet
Another option you can take is to combine necklaces with bracelets. Both jewels work well alone, but you can equally wear them together, like the "Unity" necklace and the "Sisters" bracelet. The key choosing this combination is that bracelets and necklaces are simple without too much details to not overcharge your look. Remember that jewels should always help you to stand out your outfit and make you look simple but sophisticated.
• Simple and brilliant rings
If you want to give a plus to your outfits and look even more attractive and elegant, rings are perfect. And now that you are creating your looks for Christmas, don't forget that the goal is to wear the simplest jewelry with unique shine. And rings are excellent jewels to give a radiant touch to any look, so in Sophia Jewels we want to show you some silver rings, like "Crusader", "Domnia Gloss", and "Bright Thread". However, if you prefer, you can wear more than one ring in a hand, so you can cause a great impact wherever you go.
• Long earrings
And, to complete your Christmas outfit, nothing better than wonderful long earrings. The elegance they provide is unmatched and are so imposing that you can complement your look only with the earrings and you will stand out immediately. That's why we would like to show our new collection of long earrings for parties and evening events. You can find earrings like "Irradiated" and "Dazzled", designs with brilliant zircons that are ideal to make you shine in this season of December with party looks.

All these jewels will help you to create the most surprising looks for Christmas, and you could wear them alone or as a set, according to your outfits and the occasion. Remember that the most advisable is to wear simple but at the same time elegant jewels. You can combine extravagant outfits with simplest jewelry to not overcharge; or, you can choose simple clothing and complement them with more striking earrings or necklaces, to create balance and look sensational.