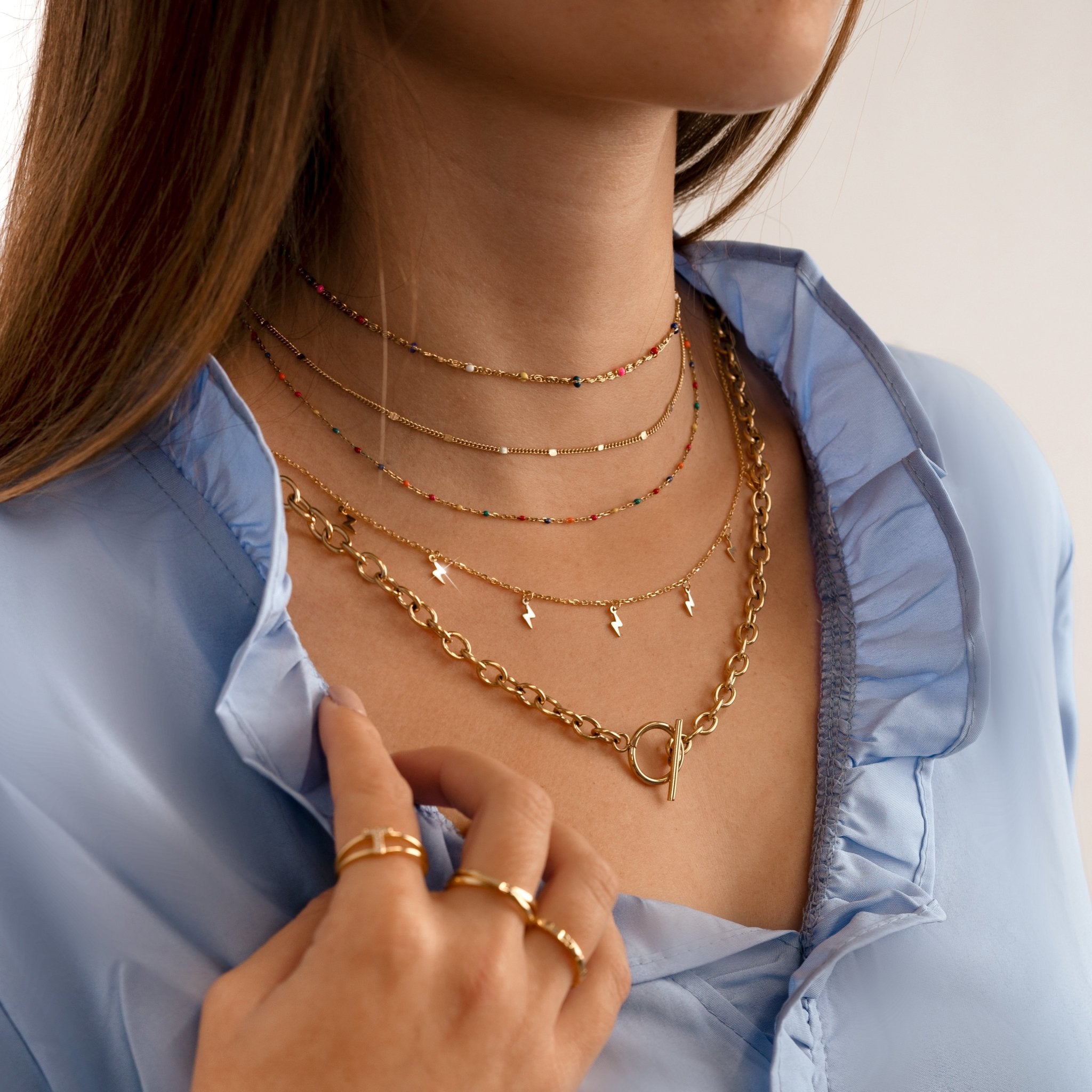 How to combine gold jewels
The gold jewels look fabulous in our outfits thanks to their shine, elegance, delicacy and glamour. However, there are jewels that always look better than others with certain looks, and that's why it is important to know which pieces to choose and how to combine them.
Many times, we take a necklace or an earring without paying too much attention if it combines or not with the outfit we wear. But, the jewelry art goes beyond just choosing any jewel because the materials, colors, designs, and dimensions have influence over the total look, besides of expressing our personality.
For this, it is important to know the best forms to combine gold jewels with your outfits to reach an attractive and different mix to show your tastes in a harmonic way. And in Sophia Jewels we share with you some tips you can follow to combine your gold jewels.
What are gold jewels?
First, it is necessary to know the different types of gold jewels that are in the market, in order to understand the differences in prices, colors, and quality. In this sense, if you are going to buy jewels, you can find some in solid gold, but these models are not too common since they result very fragile and soft. For this reason, experts in jewelry prefer to mix gold with other metals to obtain more durable jewels.
That's why you can also find jewels in "gold vermeil", which are made of real silver plated with a minimum of 10 carats of gold. This finish is a great alternative to the jewels of real gold, and they are simpler to create. The other option is the jewels in "gold filled" which can become your great allies since they are more economic, and the gold layer is thicker. To make these jewels, a metal is subjected to great pressure to cover it with a large layer of gold. It is for this that this finish can be found in jewelry made in bulk, due to the number of machines needed.
Likewise, depending on how much gold the jewel has it will look more or less yellow. Taking this into account, you can choose the necklaces, rings, earrings, or bracelets that best match your look.
Tips to combine your gold jewels
Learning how to combine your jewels and your outfits depends a lot on your tastes and personality, but we will share with you some tips to make the most of your accessories to create an eye-catching look.
1. Match your jewels with your outfit
The jewels and accessories in general will give a complement and a different touch to each of your looks, but not all accessories will combine in the best way with them. And to choose the right jewels that best match your dress, there are several factors that influence, like the style, colors, and the occasion.
For example, if your outfit is too elaborated or if it has too much brilliants or decorations, the best option is to wear more delicate and simple gold jewels to not overcharge it. Your goal will be to focus the attention on your costume and let the jewels as a subtle and harmonic complement. However, if you decide to wear a simpler dress or to your daily outfit, you can choose more striking jewels, to create a balance in the total look.
Additionally, colors are also part of your choice, because if you wear dark colors like black, magenta, green, or dark blue, yellow gold jewels are perfect, and if you combine them with some pearls, your jewelry will be more attractive. Moreover, outfits in white will also look incredible with yellow gold jewels, since they will be super delicate and elegant. However, if your looks have colors like red, beige, or gray, white gold jewels or silver jewels will be the best.
2. Jewels in layering
In general, it is recommended not to wear several jewels at the same time to not overload the outfit and not to look out of proportion, but use matching accessories and keep a visual balance with the look. However, for some years it has become more common to see how people wear more than one necklace, earrings, or ring at a time.
If you want to play a little with your gold jewels and dare to create more striking and different looks, you can wear necklaces of different dimensions to leave a little distance between each other. In this sense, the jewels could be better appreciated, and people can see the harmonic sense between the designs you wear. This is important to not have the necklaces one over the other. Likewise, you can add a necklace, a bracelet, an earring, or a ring that has one color of your outfit, so it could give a different look to your gold jewelry set. And, last, don't forget that the jewels must have the same base color: silver, yellow or white gold.
3. Mix different metals
The mix between silver and gold jewels was believed to be unlucky and it wasn't too common to see it in the looks that people created. But, the last trends have shown this mix more and more, and it is not more considered as a mistake or as a bad combination. To do this mixing, you can wear necklaces in layering where one of two metals highlights, like gold, and then you include a delicate and subtle silver necklace. Or, if you are not so bold, you can mix gold and silver bracelets, or wear some ring in both metals. You will create an attractive and charming outfit.
4. Choose a main jewel
When you create your looks, we recommend you to choose a jewel that become the focal point of your outfit. And we say this because many times people choose diverse jewels of the same dimension and that don't match. At the end, the outfit is not attractive and the mixing looks messy.
Balance and harmony are key to make you look fantastic with your jewels. For this reason, you should know what you would like to focus, if it is the look, the necklace, the earrings, or the bracelets, since wearing more than one type of eye-catching jewels at the same will make neither the protagonist. For example, if you want to impact with your earrings, the best idea is to select a small and delicate necklace, or nothing at all. In this way, you will focus people's attention on your earrings.
5. Several rings at a time
Another of the practices that has become trend is to wear several rings at the same time, what is known as "stacking rings". Wearing more than one ring on the same finger or on different fingers could result in something hilarious, funny and showy. So, you can choose your rings as the focal point of your outfit, wear them of the same base color like yellow gold, or mix them between silver and gold rings to give an impressive touch to your look.
Following these tips, you can combine better your gold jewels to make the most to your outfits. Remember to play with the mixing of your jewels, choose them according to your wardrobe, and keep them always with the same visual harmony, so your looks could impress everybody. And, don't forget that in Sophia Jewels you will find beautiful
silver jewels plated in gold
that will match with your favorite looks.
beaded bracelets
Jewels tend to be related to women, however there are some designs that could give a new, modern and out of common look to any outfit of a man, without being exaggerated. And among the most frequen...
Read more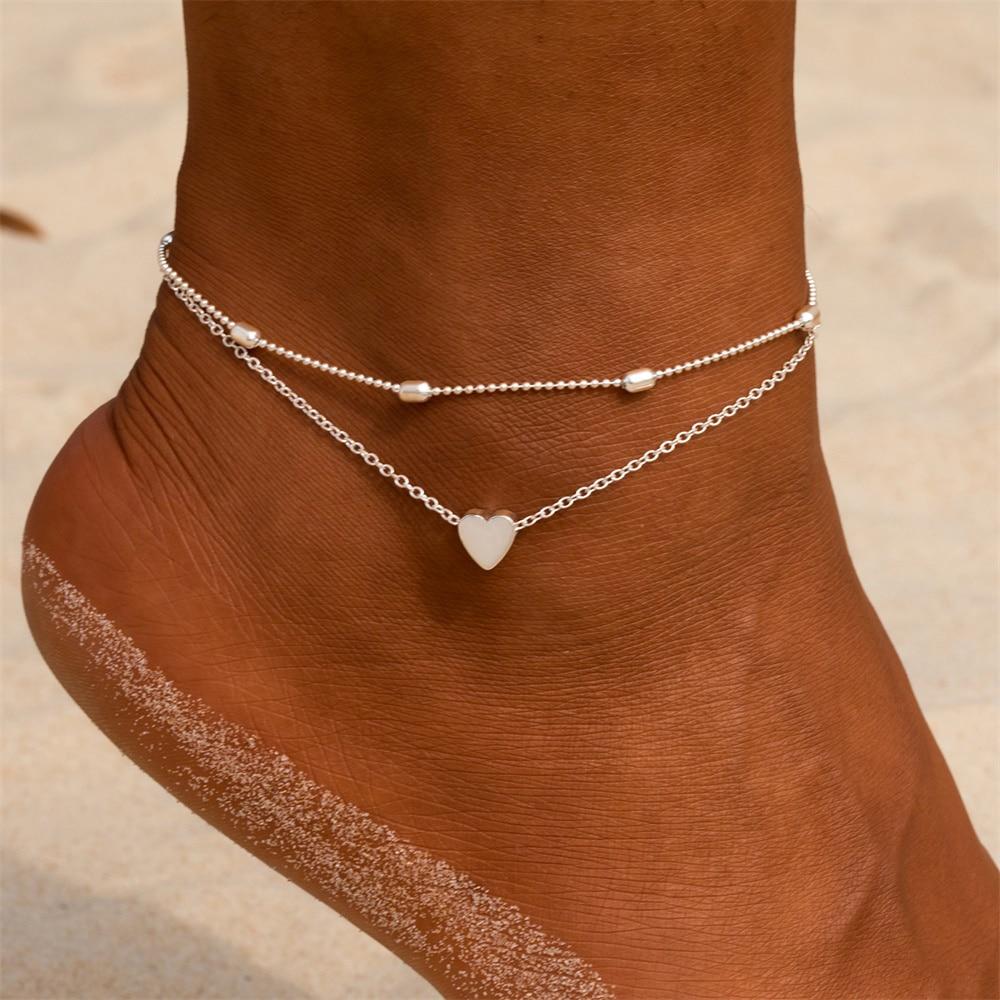 anklets for Summer
The hottest time of the year, and in which many will have vacations, begins... and it is time for a well-deserved rest. And one of the places par excellence to enjoy the Summer is on the beach. In ...
Read more