Trend bracelets for men
Jewels tend to be related to women, however there are some designs that could give a new, modern and out of common look to any outfit of a man, without being exaggerated. And among the most frequent jewels used by men, we can mention the wedding ring for married people, and the watch as a jewel par excellence for all.
There are jewels like necklaces or bracelets that are not exclusive to women's outfits, but, with a good manly design, will make the difference in men, since they are not frequently used for male looks. In addition, you can combine them with your watch to complement the outfit and make it more casual.
The origin of the use of bracelets in general goes back to the beginning of humanity, where civilizations such as the Egyptians, Phoenicians, Greeks and Romans used ornaments of different forms, such as shells or tree branches. And this practice spread and took as a tradition among the populations to protect themselves from spirits, receive benefits from the universe, drive away the bad energies, or as praise to a god. But, no matter the use, over the years both men and women have worn various jewels to express their personality and give a different complement to the look they wear.
And we will share with you what are the types of bracelets that are trend for men and the best designs of the BRAVE collection that you will find in Sophia Jewels.
Types of bracelets for men
Bracelets for men are not a recent trend, since it has been a common practice for a long time to complement an outfit or express their personality. For that, there are different designs, materials and colors that would be perfect for any look and occasion.
Men's leather bracelets are a very attractive and casual accessory to enhance any office or daily wardrobe. They are perfect to wear them with any outfit since they give a masculine and strong touch to the overall look. For instance, men can wear a leather bracelet with a jean and a white shirt, or even with more elegant pants and suits. Bracelets will give a sense of power, practicality, and modern style. They are usually worn by younger men, and you can find them in different colors and designs. For example, if you choose a black bracelet, that means strength and power. But, if you wear a brown bracelet it says you are practical and like adventures.
So, you can see a leather bracelet with a single strap, like the BRAVE "Nature" bracelet. Or, you can also find a leather bracelet with two or more narrow straps together, like the model "Wild". Whatever your choice is, it will be an excellent complement for a male look.
Beaded bracelets are one of the most worn by men and they are not too formal and are related to a daily and jovial wardrobe. In addition, the design of this type of bracelets will depend on the material of the beads, which can be made of wood or semi-precious stones, and can be combined with a metal piece. And the beaded bracelets can be stretch like the BRAVE "Tobacco" design, or they can be adjustable with a slipknot like the "Zafre" bracelet. The model you choose will be always associated with the taste and style of the person.
Customizable jewels always keep a beautiful meaning for the people who receive them because they have an engraved message, name, or initials that let them to remember a special moment, or the loved being. And, in the case of personalized bracelets for men, you can find silver, gold or leather designs with a small plaque made of stainless steel, like the "Rebel" BRAVE bracelet, where you can engrave whatever you want.
One of the most formal designs that could give a greater elegance touch to a male look is the silver bracelet. This model used to be worn by adults to adorn their formal outfits, like an office look, or to complement a daily look to make it more elaborated and original. Silver bracelets can be simple and classic like the "Horizon" BRAVE bracelet; or with links made of stainless steel like the "Titanium" bracelet.
This type of bracelets tends to be related to special moments and memories, besides being perfect to add sophistication and elegance to a casual or formal look. And the gold bracelets with a distinctive male style will make you look elegant, attractive, and authentic. So, if you would like to give a different touch to your outfit, you can find stainless steel bracelets with round chains like the "Courage" design. Or you can choose a model made of striking links, like the "Cubes" bracelet.
As you could see, the bracelets in general can also be part of the accessories that a man can wear to complement the outfit and add it an elegant and modern touch. It is also important to remember that the best option will always be the one that express his personality and comfort. And, if you want to know more about the best jewels for men, you can read our blog Necklaces for men.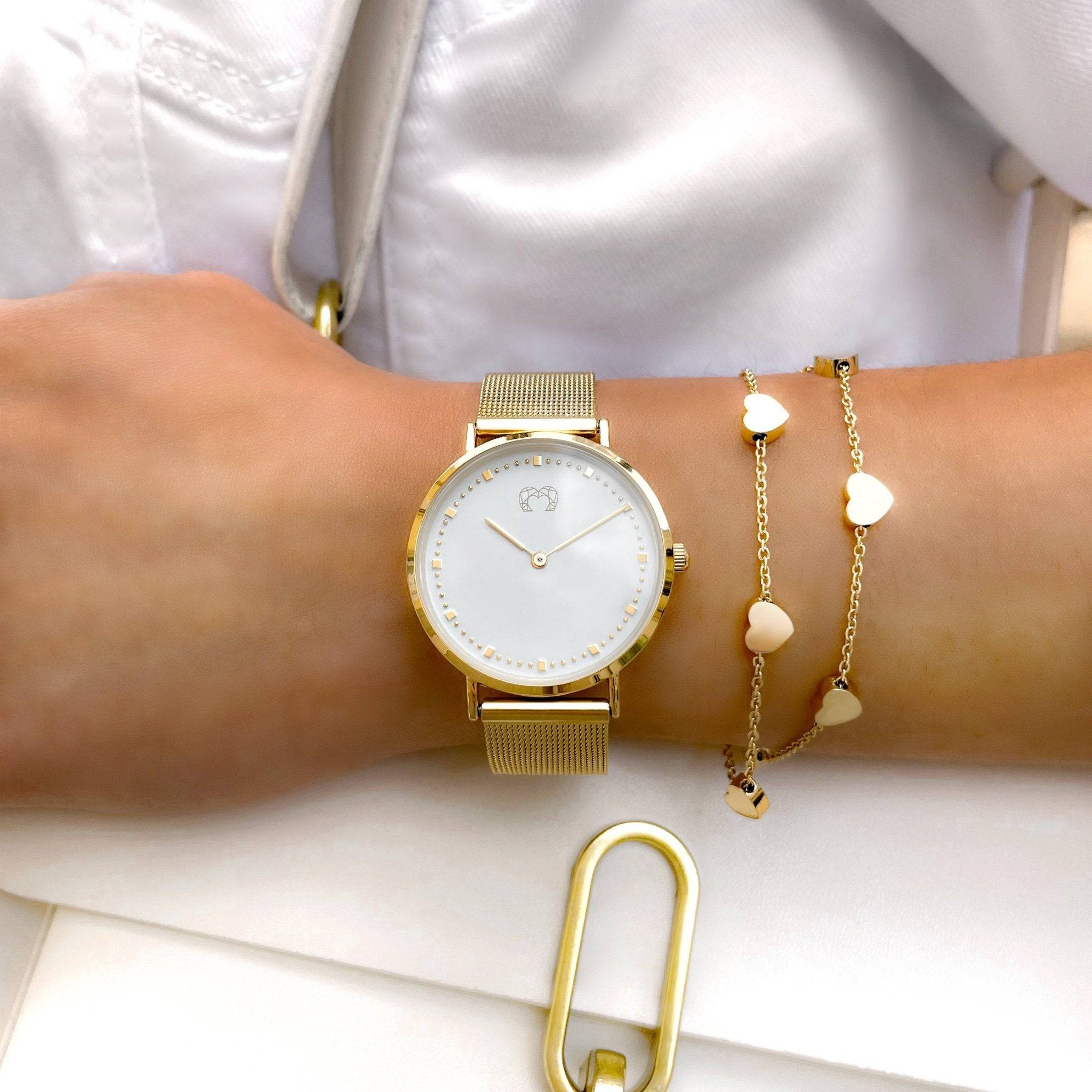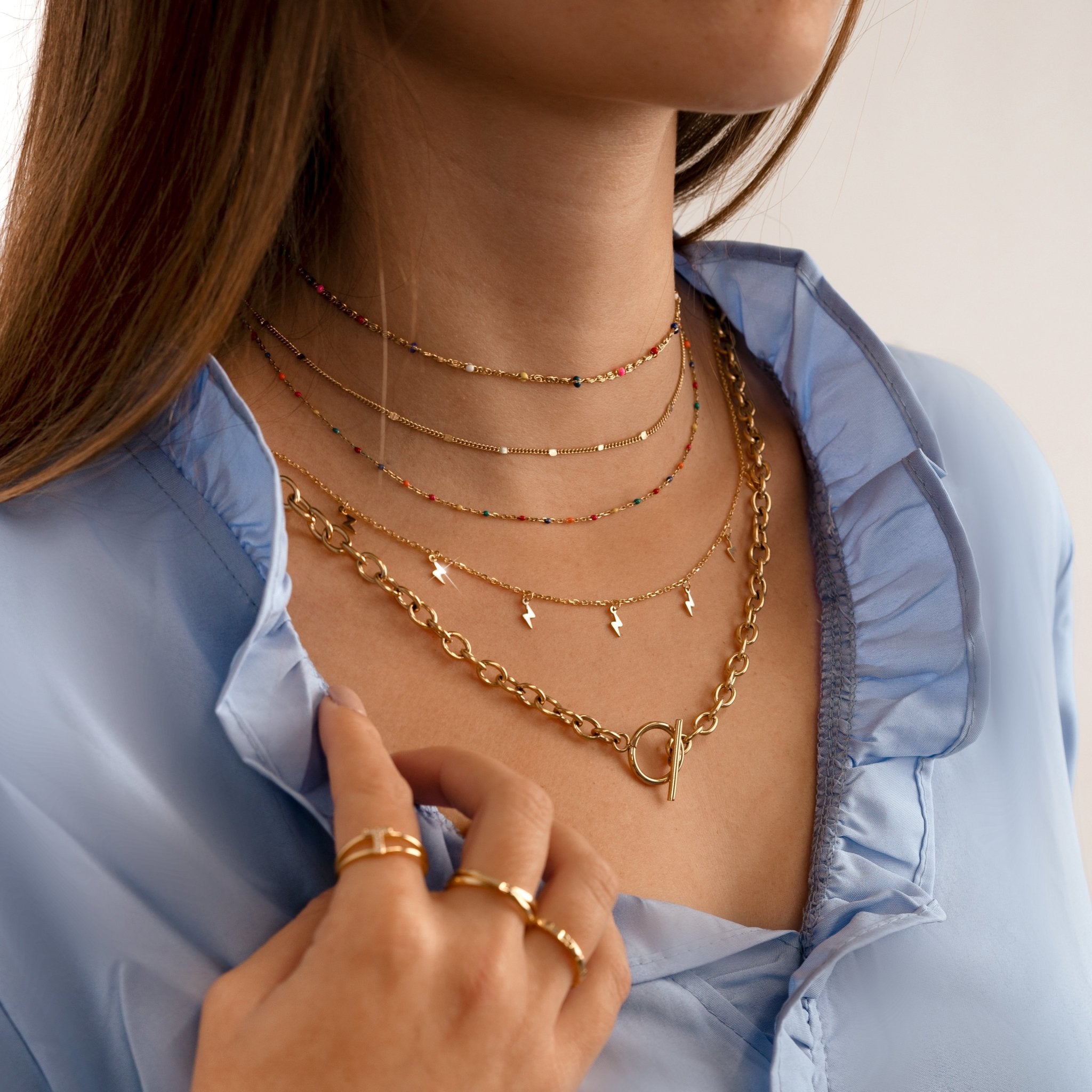 gold filled
The gold jewels look fabulous in our outfits thanks to their shine, elegance, delicacy and glamour. However, there are jewels that always look better than others with certain looks, and that's why ...
Read more