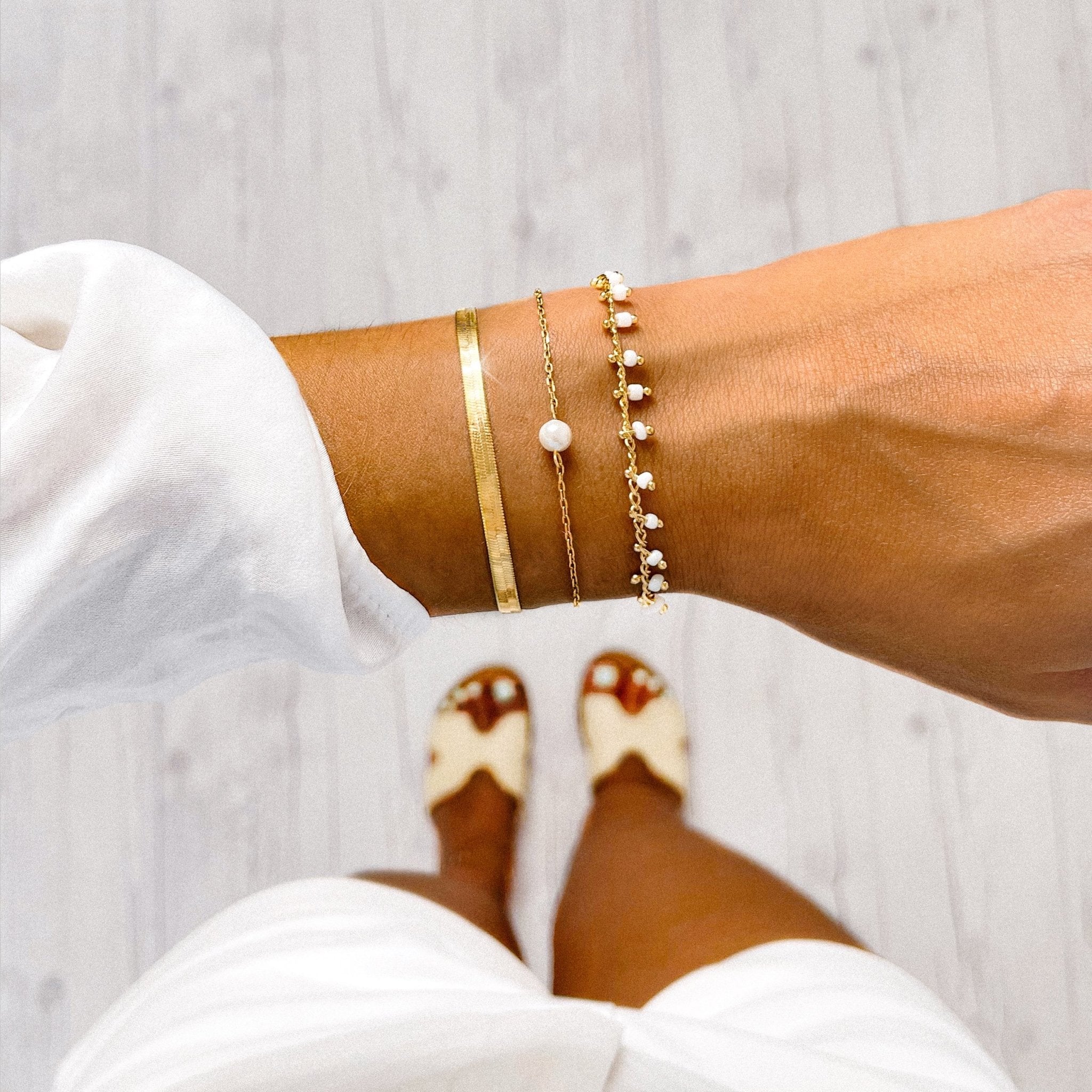 Jewels with pearls, a timeless accessory
When it comes about jewelry that does not go out of fashion, obviously we talk about jewels with pearls, one of the most recognized gems worldwide due to its beauty and elegance. The pearls are stones that are extracted from oysters and are formed from a simple grain of sand or another particle that enters inside. The oyster begins to coat this particle with calcium carbonate and mother-of-pearl, until the pearls is obtained. And this process can take up to 10 years. This is the reason why not all the oysters produce pearls.

In some cases, since not all oysters have pearls, the process of creating cultured pearls is resorted to, which consists of intentionally introducing a particle or object into the oyster, so that it can do the work and create a beautiful pearl. But, despite this intervention, both pearls are also authentic, originating from an oyster. However, it can also be created jewelry with imitation pearls, which are not produced inside an oyster. And, if this is the case, to differentiate them, you can scratch the pearl a little with your nail and if it flakes off, it is not natural or cultivated.
The pearls are gems that have been used worldwide for multipurpose, but the most extended has been the jewelry area. The jewels with pearls are classic and elegant accessories, that definitely will never go out of fashion. So, let's see the types of pearls and their properties.
Types of pearls
The pearls are synonym of elegance, purity and good luck, and, no matter the occasion, you should always have a jewel with pearl in your jewelry box to look radiant. That's why, when you go to buy a pearl, you can find different types, like:


• Cyst pearl: this type of pearls is characterized by an oval, pear or completely round shape. Its surface is pearly and are produced in the oyster's pearl sac.

• Baroque pearl: its shape is completely irregular and misshapen.

• Blister pearl: they have half sphere shape, and only the upside part is pearly. This type of pearl grows on the inside face of the oyster. These pearls are also known as Mabe pearls, when they are cultivated.

Moreover, regarding the color of pearls, they are normally white or a little bit yellow; however, you can find them in 19 different colors, such as orange, blue, green, red, purple, gray, or even black.

Properties of pearls
The natural or cultivated pearls are one of the most precious gems around the world, especially because they come from a living being like oysters. Among their properties, the oriental culture has used the powder of this gem to produce medicine associated with the nervous system. In addition, its use is particularly special in the production of cosmetics to tone the skin, recover the collagen, accelerate the metabolism, remove acne and blemishes, exfoliate the skin and give it more elasticity.

Likewise, the pearls tend to be related to esoteric or energetic properties, so they are believed to attract good energies, fortune and happiness to the person who use them. Furthermore, they help to control emotions and absorb negatives energies. The pearls are ideal to restless and fearful people. Symbolically, they are related to innocence, justice, purity and loyalty.

When to wear jewels with pearls
Jewels with pearls are often associated with older or mature people, but in recent years their use has extended and young women can also wear pearls either on special occasions or daily. The pearls are gems that give elegance and sophistication to every look you wear, but the important is to know how to combine them to not abuse them and that the outfit is not overloaded.

There are many jewelry designs with pearls, that you can also combine with natural stones, silver, gold, etc. And in Sophia Jewels you will find several models that will make you look spectacular no matter what. Additionally, if you like precious stones, we present to you the meaning of natural stones in jewels.

You can wear simple and minimalist pearls for day to day, like at the office or for a casual date, where you wear rings, earrings or bracelets, so that you can give a youthful touch to your style. In our boutique, you can find the ring "Passion Pearl", to look elegant without abusing the pearls.
However, if you wish your outfit to look more sophisticated, you can opt for full pearl necklaces, that you can wear either alone or with very simple earrings to not overload. This set is perfect for those events more exclusive. And, if you want to wear this jewelry set in a more youthful way, you can buy pearl chockers and combine them with informal outfits. Don't forget that, depending on the occasion, you can also wear bigger pearls or more risked and elaborate designs with pearls.

But, if you like to look simpler and elegant at the same time, you can wear necklaces like "Shining Pearl", "Sea Pearl", or "Pierina", which will give a beautiful and delicate touch to your look. Furthermore, if you want to look radiant, earrings such as "Natural Pearl", "Long Pearl", or "Half Ring Pearls", and bracelets like "Beauty Pearl" or "South Pearl" are perfect for you.
Remember that the most important when wearing jewels with pearls is that they must become the ideal complement of your outfits, and that give that touch of elegance, delicacy and sophistication, that will make you look precious. And, in Sophia Jewels, you will find those jewels with pearls that cannot miss in your jewelry box.