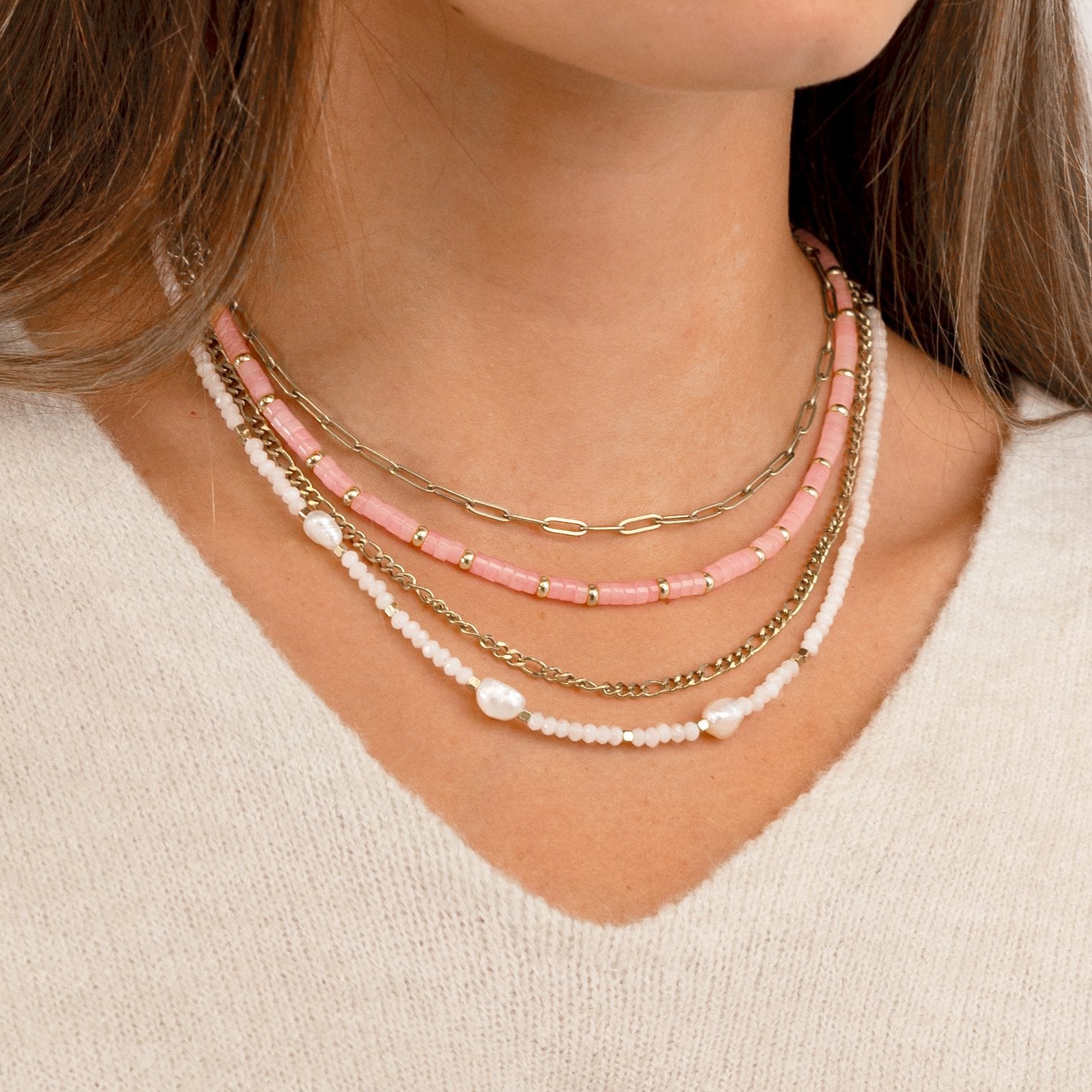 Meaning of natural stones in jewels
It is not a secret for anyone that natural stones have a particular beauty, and their shapes and brightness have been used to create insuperable jewelry pieces that are ideal to any occasion.

These precious stones are obtained after carving and polishing natural stones, and are not only taken into account by the beauty they radiate, but also, each one has a meaning associated with the spiritual and emotional that makes them even more special. And the meaning of stones makes reference to the benefits that you can receive both physically and emotionally. In this way, you can know the power of your favorite stone before choosing a jewel, or on the contrary, you can select the jewel with the precious stone regarding the benefit you want to obtain.

That's why, here at Sophia Jewels, we share with you a list of the most used natural stones in the world of jewelry and what their meaning is. But first, do not forget to know the Jewels with natural stones: classic trends that return.

• Amethyst

The amethyst is one of the most used natural stones to design jewels, and its violet color become it in a unique stone. The amethyst is one of the variations of quartz, and due to its color, it is associated with luxury, royalty, and elegance. In addition, that purple color is obtained by the quantity of iron oxide that the stone has.

The value of this stone depends on the intensity of its color, and the darker it is, the higher the cost of the jewel. And within the world of gemology, they classify the amethyst with a name regarding its color. That's why if it is a clear amethyst, it receives the name of "Rose de France", and if it is more intense, then it will be a "Siberian".

Meaning of the amethyst
The amethyst stone is associated with spirituality and is ideal to bring you calm and relaxation in stressful moments. It is a therapeutic stone that improves the physical and emotional plane, with which you can find inner peace and harmony. And, if you have this stone in a jewel or as a natural stone, it is recommendable to touch it to absorb its energy.

And, at Sophia Jewels, we offer you the following necklace designs: "Amethyst Summer", "Colours of the year", and "Wisteria", that you will love. So, do not hesitate to have a jewel with amethyst stone, so you can enjoy its benefits and its incomparable beauty.

• Turquoise
This stone was discovered in the way to Turkey, and because of that French people give it its famous name "Turquoise". Its color can vary between blue and teal, and it is other of the most used precious stones in jewelry due to its versatility and lightness. The turquoise is formed by water, phosphorus, oxygen, aluminum phosphate, and copper, which give it its greenish blue color. And, to identify it, just make sure that it has different shades of dark colors, and that it is not a flat and uniform color.

Meaning of the turquoise
Turquoise stone is considered a protective talisman or amulet that provides you healing and good luck. It works directly with the throat chakra, so it helps to open it and release it. Furthermore, it blocks negative energies and attracts the positive ones for all areas of your life. Turquoise is also related to meditation, improves concentration, cleans energies from the outside, and gives you greater intuition.

If you like the turquoise stone, at our boutique you can find some jewels with natural stones, such as the necklace "Turquoise Moon". And the "Diversity" earrings will make you look elegant.

• Ruby
Ruby is considered one of the most beautiful gemstones in the world. Its origin takes it to Burma, and its name comes from Latin ruber, that means "rojo". It is composed of aluminum oxide, iron, titanium, and chromium, due to which it owes its red color. However, rubies are not completely red, so you can also see some reflects in purple, orange, and pink.

Meaning of the ruby
Due to its intense red color, ruby has been associated to romanticism, passion, courage, and victory in personal and emotional growth. Wearing a jewel with a ruby stone helps you to meditate, gives you energy and intuition, improves your intimate relations, guides you to dissipate doubts, and strengthens your aura. With a ruby stone in your jewelry box, like the "Ruby Red" earrings, you will feel with greater impulse, bravery, and energy in your life.

• Emerald
Another of the most valuable stones, along with ruby, it is the emerald. This natural stone is composed of beryl, a mineral, and chromium, which gives it its characteristic intense green color. Its name signifies "green stone" and comes from Persian language. Generally, it is related to good luck, and spiritual healing.

Meaning of the emerald
The properties of the emerald stone are linked to the tranquility and relaxation that it can provide. Additionally, it promotes friendship and love, gives patience and calm in times of high stress, strengthens the memory, helps to equilibrate emotions, brings positivity and mental clarity for your life.

And if you would like to have an emerald stone in your jewelry box to obtain its benefits, we present you the "Emerald" ring, "Rage" earrings, and the necklace "Colours of the year", that you will find at Sophie Jewels.

• Lapis lazuli
Lapis lazuli is one of the oldest semi-precious stones in the world, and its main uses date back to the time of the Pharaohs in Egypt, who used it as jewels and amulets for its protective properties against negative energies. Its name means "blue stone", and is composed of calcite, calcium silicate, lazulite, and pyrite, minerals that give it its color, hardness and texture.

Meaning of the lapis lazuli
The lapis lazuli stone is usually related to the throat chakra, so it facilitates communication and the power of the word. You can use it to attract good luck, clear fears and insecurities, find balance and serenity, stimulate concentration, and strengthen your mind and body. In addition, it is associated with truth and friendship.


• Rose quartz
Rose quartz is another of the most used stones in jewelry, thanks to its subtle and delicate pink color. This stone is one of the varieties of quartz and its pink color is due to the fact that in its composition there are small amounts of manganese, phosphorus, iron, titanium and dumortierite. It is commonly known as "the stone of love", and is associated with beauty, tenderness and romanticism.

Meaning of the rose quartz
This gemstone relates to the healing of emotions, it helps you to release the sorrows, the feelings not expressed, and strengthen self-confidence and self-esteem. In addition, it directly influences the heart chakra and is ideal to attract unconditional love, improve and strengthen all kinds of ties and relationships. It gives you peace, tenderness, calm and relaxation. And in our shop, you can enjoy the necklace "Crystalline Pink".

• Aquamarine
Aquamarine stone is one of the most sold and used in jewelry, and attracts all eyes wherever it is. Aquamarine is a transparent stone with a characteristic light blue color, obtained thanks to the presence of iron in its composition. Moreover, its hardness and shine make it one of the favorite stones when making jewelry, because it gives delicacy and elegance. And in our shop, you can enjoy the aquamarine with our necklace "Colours of the year".

Meaning of the aquamarine
Since ancient times aquamarine has been used as an amulet or talisman to attract good luck and protection. This light blue stone owes its name to the crystal waters of the sea, and its properties are associated with water, so it works directly in giving sensitivity and empathy to whoever uses it. Furthermore, it reduces stress, eliminates fears, provides tranquility, calm emotions, mental openness, and is said to have healing properties.

This is just a group of the most used gemstones within the jewelry world. And with this little guide you know which stone to choose when buying your next jewel, since it will not only be for the beauty and shine that radiate, but for the properties and benefits that can bring to your life jewelry with natural stones.